Fees for 2019 - 2020
The New Website Registration / MHS Explorers Membership Fee of $25 is due when you request membership in MHS.





The Annual Family Membership fee to register for classes and clubs is $125 per family.





All class & class supply fees will be put on a payment plan through November 2019.





You must login each month and pay your invoices manually.

You can find them by logging in and clicking on "Accounting" and then "Invoice & Payment Details".





The earlier you register the smaller your payments.





All payments must be made via our online payment system on the website.





Class and Supply Fees cover both Fall Semester 2019 and Spring Semester 2020.




Please see our Fees Policy in the Handbook

HERE





BONUS: Every child that is registered for a minimum of 1 Paid Class gets a Free MHS T-Shirt!
Membership
Fee Per Family

New Website Registration &

MHS Explorers Membership for Access to

Field Trips & Off-Site Events Beginning Today

$25

Annual Family Membership Fee for Access to

Class & Club Registration and ALL Events &

Field Trips

$125
Other Fees (For Aug 2019 - May 2020)
Fee

Annual Boys & Girls Club Fee

Every Child 5 years & older by 9/1/2019

Sign up on Class Registration Page

Due August 1st

$40 per child

Background Check Fee

Every Adult on site at MHS

Paid to IdentoGo directly

Not Required for Drop-Off Parents

$30.15 per adult

Class Fees / Tuition (per child for the year)

Payment plan through November 2019

Added to class fee in payment plan

$250 - $315 per class

Class Supply Fees (per child for the year)

Payment plan through November 2019

On Average

$20 - $40 per class

Club Only Fee

Not Registering for Classes

Not Leading Clubs

$150 per family

Club Only Fee - Club Leader

Not Registering for Classes

Minimum of 14 Hours of Leading Clubs

$50 per family

Club Supply Fees (per child for the year

$10 - $15 per club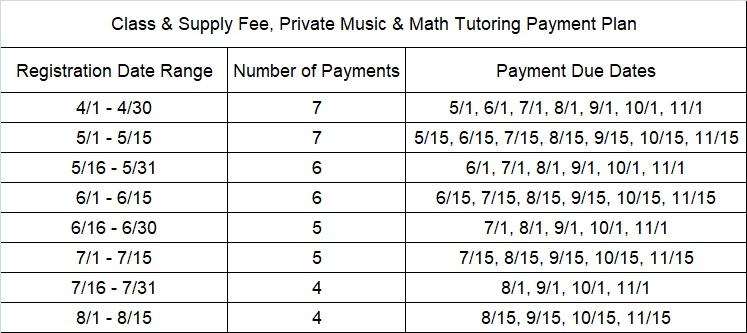 | | |
| --- | --- |
| Drop-Off Options (Cover Aug 2019 - May 2020) | Annual Fee |
| Drop Off Fee - Mondays Only (8 years & Older) | $50 per child |
| Drop Off Fee - Fridays Only ( 8 years & Older) | $50 per child |
| Drop Off Fee - Mondays & Fridays (8 years & Older) | $100 per child |
| Study Hall Fee (11 years & Older) | $25 per child |
Annual Volunteer Hours Per Family

(Not Required for Drop-Off Families)

Minimum Hours

Mondays Only

28

Fridays Only

28

Mondays & Fridays

56