History Classes

Please Note: Class and Supply Fees listed cover the full year. All classes meet Mondays and Wednesdays. Please see our dates & schedules.
Secure Forum: All MHS classes have a secure interactive forum to communicate with tutors, parents and classmates. Tutors will use this platform to communicate about classwork and assignments.
Parents and students access the forum by signing into the website using the username(s) & password(s) created on the membership form and clicking on "forum".
Assignments: Homework/extension work/project homework assigned on our interactive course forums.
Pre-Modern History: 1st – 5th
We will explore the changes in Europe from a time of darkness to the "age of enlightenment," an explosion of new ideas and inventions that are still felt today. Advances in technology brought about new relationships between faraway nations. As we look at the world from the 15th to late 18th centuries, the Renaissance to the Pre-Modern Era, what literature, art, music, architecture, and inventions did nearly four hundred years give to the world? We will look at the brilliance of Galileo, the insights of Machiavelli, the bravery of the American pilgrims, the slander of the Salem witch trials, the plight of African slaves, and the strategy of Napoleon. We will also look at how the agricultural, industrial, and political revolutions changed the map of the world. Using handouts, maps, timelines, videos and images, we can connect and understand the pre-modern world.
**Students will be provided with a history binder for the year to organize their class work and homework.**
**Book to Purchase: The Kingfisher History Encyclopedia**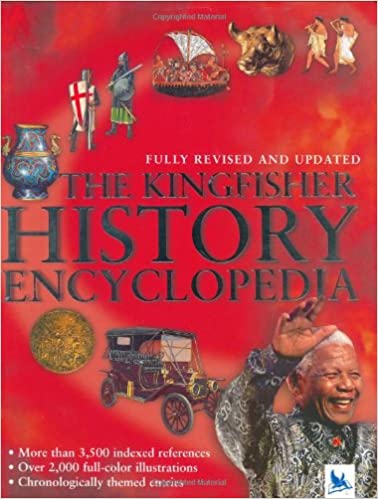 Modern History: 6th – 9th
The revolutions of the 18th and 19th centuries gave rise to powerful nation states in a newly configured world both after World War I and World War II. Between the two wars, political parties -- socialists, communists, and fascists - fought for control. The post-World War II world shifted focus to the Middle East and Civil Rights, the Environment, and the Economy of the United States of America, conflicts still with us today. This was an era of tragic losses as well as great triumphs calling for our close attention to all the contributing factors. Written for the logic to rhetoric stage of a classical education, students will compare and contrast, analyze, research, write, and outline. Essential references include handouts, maps, timelines, and historical fiction
**Students will be provided with a history binder for the year to organize their class work and homework.**
**Book to Purchase: The Kingfisher History Encyclopedia**