History Classes

Please Note: Tuition covers the full year. All classes meet Tuesdays and Thursdays. Please see our dates & schedules.
Secure Forum: All MHS classes have a secure interactive forum to communicate with tutors, parents and classmates. Tutors will use this platform to communicate about classwork and assignments.
Parents and students access the forum by signing into the website using the username & password created on the membership form and clicking on "forum".
Assignments: Homework is assigned on our interactive course forums.
Modern History: 2nd - 4th
Modern world history will combine history with activities, world geography, great literature and writing. From Africa, India and Afghanistan to Asia, Europe, and America, we'll look at customs, famous places and events until the present. The Modern Age also covers the Victorian Era, world wars, the rise of fascism, inventions and technology, and more.
Assignments include writing; reading world folk tales, fairy tales, stories, and rhyming poetry; coloring pages; map work; timelines; and activities for the class, groups, and pairs. We'll also do hands-on activities: craft projects, art projects, and coloring; and possibly a keepsake book final project is also included.
**Students will be provided with a history binder for the year to organize their class work and homework.**
**Book to Purchase: The Usborne Encyclopedia of World History **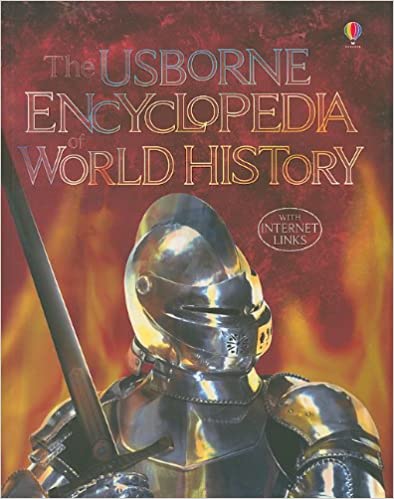 US History & Literature: 5th - 8th
US History and Literature for the 5th to 8th grade students will combine two resources that reinforce each other: Learning American History Through Literature and Paragraph Writing for Kids. For American History, we will start with Unit 1: the Colonial Period (1607-1763) and end on Unit 7: Post Post Years (1945-1968). Each unit is organized into seven different elements that make up a story starting with the Prologue (introduction) and ending with the Epilogue (rounds up what you read). There will be chapter books assigned to read as a class for each unit.

We will use Paragraph Writing for Kids as a guide for Language Arts to write five essays, including Describing a Scene, Narrating an Event, Persuading the Reader, Explaining a Task and Establishing a Preference. The topics will come from the historical stories and chapter books we read throughout the year.

**Students will be provided with a history binder for the year to organize their class work and homework.**

**Chapter Books to Purchase: This will be communicated throughout the year.**
US History & Literature: 9th - 12th
1 Credit: US History
1 Credit: US Literature
High school students will study 9 units of American History: Colonial Roots; Revolution and Early Republic; Nineteenth-Century Development, Parts 1 and 2; Civil War and Reconstruction; The Rise of Industrial America; The Progressive Era, WWI, and Roaring '20s; The Great Depression, WWII, and Post-War Issues; and Recent American History. Each unit is organized by assignment types, including primary documents, geography map work, a spotlight session, and a project. We will have select assignment types for each unit.
You will need to buy at a bookstore or borrow from a public library a list of novels and plays including The Autobiography of Benjamin Franklin by Benjamin Franklin; Narrative of the Life of Frederick Douglass by Frederick Douglass; a movie called The Civil War by filmmaker Ken Burns from PBS, and a play A Raisin in the Sun, in a movie (1961) to name a few.
Paragraphs, essays, and research papers for Language Arts will be on topics covered in the American History binder. Students will follow the writing process to create solid assignments based on how to think, not what to think in history.
**Students will be provided with a binder for the year to organize their class work and homework.**
**Chapter Books to Purchase: This will be communicated throughout the year.**